Amazing new club you can hit HIGHER than your 3-wood and LONGER than your driver with the same swing and consistency as an iron!
FREE Video Will Show You How to Effortlessly Launch Soaring, Monster Drives Right Off the Deck and its IMPOSSIBLE TO CHUNK! You'll LOVE this Club MORE than Your Driver or Your 3-wood...Or Your Money Back. Turn up your speakers and watch the video below.

Try the TeeLessTeeless driver for 60 days. We guarantee you won't chunk it and you'll launch the ball higher, carry it farther and find more fairways than your current driver or 3 wood3-wood. If not, we'll send you a full refund of your purchase price. I'm not talking about taking the TeeLessTeeless out to range with the face taped uponce or playing just a round or two with it. Play it as much as you want. Hit it off the tee, then off the turf, even out of divots! 

Guerin Rife - Inventor of the Teeless Driver
Guerin Rife is a prominent US club maker. He is really proud of this club. He didn't just want to make something that was a gimmick. This is a real golf club. He built a club that you are not going to find anywhere else in the world that is built for basically every single golfer.

Dear Trying-to-get-better Golfer:
Do you struggle getting your fairwaywoods up in the air from the rough or even the fairway? Are you disappointed how far and how consistently you hit your 3-wood? How about your driver? Is it short and crooked more often than not? What have you done to try to improve? Taken some lessons? Read the latest quick-fix tips in the golf magazines? None of it helped much, did it? Did trying to work on your backswing or transition your plane work? Or that $400 or $500 new driver or fairway wood?
Well at least you're trying, right?
So now what do you do? You've put ina bunch of time and good money chasing a better game but you're still having to deal with drives that fly low or short or curve into trouble, maybe all of the above! And how about that 3-wood? Do you carry it just to have a 14th club in your bag? Do you avoid using it at almost all costs?
If this sounds like you, boy have we got an answer. And it's SO good and SO easy you will not believe it. Ok, here it is:
You hit your irons pretty consistently, but that swing doesn't work with your driver or 3-wood. So how about finding a club that goes nearly as long as your driver off the deck and works with your IRON SWING? Yes, one you can use right off the tee OR THE FAIRWAY! 
Lots of clubs have claimed a lot of things, but we haven't found one that actually did what this one does. Hard to believe that you can launch a club higher and straighter than your 3-wood and REALLY LONG, right? It can't possibly exist can it?
Well it didn't…that is
UNTIL NOW!
Oh man is this exciting and we cannot wait to show it to you. But you might be wondering…  "Hold on a minute, I play a top-of-the-line driver and 3-wood. I see tons of pros playing them on TV every week."
Why is it that amateur golfers play clubs designed for pros?
Doesn't make sense does it? But up until now, you haven't had many options. You thought you were doing the right thing.
Problem is if you have a big name driver or 3-wood in your bag, you're playing the wrong clubs! And it's totally sabotaging your game. 
Why?
It's simple science.
You probably have a swing speed under 100 MPH and drive the ball less than 260yards. The average PGA Tour Player has a swing speed of more than 114 MPH and drives the ball 295 yards (and that's just the average Tour player, the best players drive the ball more than 315 yards). It's really not your fault you don't hit it well, your swing speed just isn't the same as those great players.
So, most likely you suffer with some or many of poor results:
Weakdrives that just don't have any "Pop"

Teeshots into the rough, trees, water and worse

Chunks or fat shots with your 3-wood

Low-flying, weak slices or pulls

Making a good swing but getting terrible results

It's SO frustrating you might have been tempted to quit the game!

But there's good news!
You can kiss your troubles goodbye thanks to one incredible new club!
Award winning industry veterans Guerin Rife and Jeff Sheets of RXS Design specifically conceived of and engineered this baby just for you, not for Tour pros. For your game, your swing, your clubhead speed. You will absolutely knowthe very FIRST time you hit it, this will be YOUR favorite club…heck, it might even replace BOTH your 3-wood and your driver! It's that good!

Introducing a miracle of modern club design, the never-before-seen (T)LESS Driver…yup,(T)LESS as in, no Tee required!
the (t)less is long from the tee, long from the turf! And the best part...it goes up in the air and dead straight from almost any lie!
Infact, the more ground you hit, the longer and higher the ball will travel. And this means regular golfers can even hit it out of a divot! YES, out of a divot, even out of the sand!
Hear what people are saying
★ ★ ★ ★ ★
AMAZED
"I played the Teeless Driver in the US Senior Open and was amazed how easily I could hit it long and straight from any lie. I'm not an engineer and can't explain how it works, but from any lie and I mean any lie it comes out beautifully; divot-no problem, tight lie-no problem!!! Put away your old outdated 3-metal and play the Teeless Driver."
- Joe Inman / 1969 Walker Cup & a 4-time winner on the PGA and Champions Tours

A letter from Notah Bengay:
Hi, I'm Notah Begay III.
Golf analyst for NBC sports & the Golf Channel. As a 4-time winner on the PGA tour, 3-time All American at Stanford University and the first player to shoot a "59" on the Web.com tour, I understand what it takes to perform at a world-class level. I also know that the major golf companies design clubs specifically for elite level Tour Players. That's why I am so excited to tell you more about the (T)LESS Driver!
Here's just a partial list of what the (T) Less Driver will do for your game:
For most golfers, it will dramatically increase your launch angle and distance vs. your current 3-wood. Because it's so forgiving, you can hit it off the tee, off the fairway, out of the rough even out of a divot! You'll hit it consistently solid a lot more often! BEST of all, you'll hit the ball WAY more accurately (and start splitting a ton of fairways)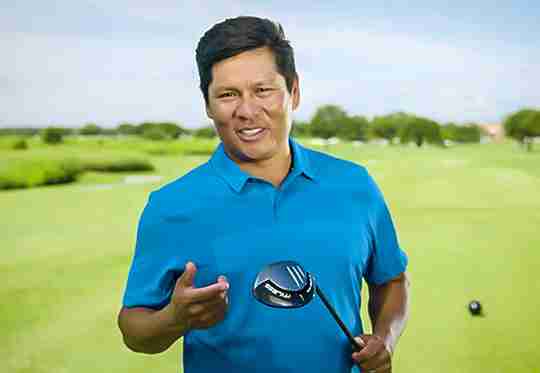 You'll totally eliminate chunked fairwayshots! You heard right, shots from the deck with a 13 degree club? Yup, you'llhit them high, long and dead straight effortlessly! And you'll completely eliminate having a different swing for your driver or 3-wood (swing the (T)LESS just like you do an iron).
Hit it as far or farther than players who usedto drive it past you (talk about a confidence booster!)
GolfersLove the (T)LESS Driver and Here's Why…
Actual reviews from actual golfers.
It absolutely jumps off the face. It's a very easy club to swing and make contact especially if you're not worried about hitting the ground.

(T)LESS has got a lot more carry. Even off the ground I hit it farther than my regular driver.
But, the (T)LESS isn't really a driver. It's a high quality golf club comprised of premium components that has the same footprint as a driver, but the clubface height and overall length is the same as a 3-wood. It's called (T)LESS, becauseit's been designed specifically for most amateur golfers to enable them to hit it as long or longer than their driver from right off the turf...without a tee!
Almost all amateur golfers hit drivers that are designed for Tour players.

Those big-name drivers are engineered for the pros who never ever miss the middle of the clubface. They also want their clubs NOT to be too forgiving!
Why? They want to be able to work the ball right to left and left to right. That's great for them but horrible for regular golfers. These drivers typically have too little loft for the average amateur... and the center of gravity is too far forward toward the face and too high up in the club head . And the shafts tendto be too long to handle and not the right flex for amateur golfers.
By contrast, the (T)LESS, was specifically conceived, engineered and built for YOUR GOLF SWING.
That's why the (T)LESS gives you:
Faster ball velocity off the ENTIRE clubface! Another one of the groundbreakingfeatures of the (T)LESS is the patent pending Spectrum CT clubface which makesthe entire width of the face hot yet very forgiving allowing your toe and heel shots to fly almost as far and straight as the ones you hit dead center. Compared to conventional drivers, it can be a difference of 10 yards or less when you miss the sweet spot by just a half an inch toward the toe or heel. By making the entire face hotter, you'll lose almost no distance on balls struck off center!
Optimal launch angle with the center of gravity extremely rearward and 13° of loft the(T)LESS' revolutionary weighting makes it SO easy to hit the ball up in the air and out of nearly ANY lie! By moving the weight low and way back in the clubhead, you'll find it easy to hit higher from tee, the turf, the sand, even out of a divot!!
Confidence knowing you just cannot chunk it! Another surprising benefit of having a(T)LESS driver in your bag is the Ground Control Sole. This sole is designed to allow the (T)LESS to glide through the toughest grass, rough, sand, even divots so you virtually eliminate any possibility of sticking the club in the ground or hitting it fat.
Bonus clubhead speed and accuracy from the premium Fujikura custom shaft. The components used in the (T)LESS are top-of-the-line no doubt about it. TheFujikura shafts performance is incredible and again designed to maximize the performance of the (T)LESS clubhead and YOUR golf swing. Being the length of a3-wood shaft, you'll hit it solid a lot more often giving you more confidence and lowering your scores.
Incredible feel with the tour-proven Lamkin Cross-line grip. The grip is the connection between you and the golf club and RXS Design cut no corners here using a great feeling, premium quality Lamkin grip on every (T)LESS Driver.
With its great looks, super hot face, revolutionary rearward low cg, chunk-proof sole, and premium Fujikura shaft, the (T)LESS is easy to launch high, long and straight from almost any lie! Even from a divot!
The (T)LESS is awesome,
BUT WHAT DOES IT COST?
Before revealing the price, I can share with you that it is an outstanding value in the marketplace. For drivers designed for Tour players, not golfers like you, you'd expect to pay $400 to$500 or more for one with a premium Fujikura shaft like you find in the (T)LESS.
The shaft alone in the (T)LESS typically will set you back over $200. But those bigcompany's drivers don't have the features engineered for your specific game: The extreme rearward low cg makes it easy to launch high; the Spectrum CT feature gives you shots that fly nearly as long on mishits as shots hit dead center; and the Ground Control Sole will eliminate chunked shots.
Inaddition, the (T)LESS just may replace both your driver AND your 3-wood. Infact, it's doing just that for many of the satisfied golfers that own one. So what would be the value of having a club that can take the place of both driver and 3-wood? And do the job easier and better than what you have now? $500 dollars, $600? More?
Well you can try the revolutionary new (T)LESS Driver direct to you for a limited time introductory price of
UNDER $300! 
And when you purchase your brand new (T)LESS Driver today, we'll send along FREE access to online video lessons from me, Notah Begay III.

That's an additional $30 value, absolutely free.
And because the club makers at RXS Design are absolutely, positively convinced you will launch your drives higher, longer and straighter with the (T)LESS right off the turf, they're giving you a rock solid, no questions asked, guarantee.
Our Exclusive 30-Day Guarantee *GOLFPASS Members are protected by the 365-Day Guarantee.
As with all products offered by Revolution Golf, we back the (T)LESS Driver with a 30-day guarantee. We guarantee you won't chunk it and you'll launch the ball higher and find more fairways than your current driver or 3-wood and hit it LONG! If not, we'll send you a full refund of your purchase price.
I'm not talking about taking the (T)LESS out to the range with the face taped up or playing just a round or two with it. Play it as much as you want. Hit if off the tee, then off the turf, even out of divots.
"Impressive! Normally that ball would have dribbled into the lake, but still I got 200 yards out of it."
From any lie, you'll have the confidence knowing that you just cannot chunk the (T)LESS! The (T)LESS glides through any fairway, light rough, sand...even divots and allows you to launch the ball high, straight and far!
If the (T)LESS Driver doesn't perform like we've promised, if it isn't dramatically better than your current driver or 3-wood or if you just aren't happy for ANY reason, just sent it back. We'll send you a full refund. If you're not totally happy with the (T)LESS Driver, contact the customer service team at customerservice@revolutiongolf.com and you'll receive simple refund instructions … including how to return the (T)LESS Driver if you decide it's not for you.
The risk for trying this incredible new (T)LESS Driver: None.
The Rewards? Higher, longer and straighter drives, easier shots from the fairway or rough and even out of divots! Just about every amateur golfer I know could benefit from trying this new category of club; the (T)LESS Driver...and you can do it completely RISK FREE.
"It's a club I could definitely see myself using more reliably out of the rough."
So what are you waiting for? Don't let this opportunity to immediately improve your golf game and have more fun pass you by!
If you're ready to effortlessly hit beautiful, long straight rising bullets from just about any lie, have more fun and start shooting lower scores, then click the link below and order your (T)LESS Driver TODAY for the incredible introductory price.
Be one of the first to put this ultimate fairway finder into your bag. Long from the tee, long from the turf, the (T)LESS Driver.


What are you waiting for?
GET THE TEELESS DRIVER NOW!
$45.60
★ ★ ★ ★ ★ 5.0

100% NO-RISK MONEY BACK GUARANTEE